When I think of the Samurai, there are a few words that come to mind immediately:
Heroic, Disciplined, Tough, and Fierce.
Dom Justo Takayama Ukon was no exception. As a daiymo samurai living during the Sengoku period (16th century) Ukon was dedicated to practicing martial arts 4 hours a day, and is considered one of the greatest samurai leaders and teachers of his day.
But there's something more to his life that inspired all those around him.
According to his peers, students, and all those under his leadership, he was "a great general, an ingenious strategist, a master of the tea ceremony, a harmonious personality, and above all, an exemplary and saintly Christian."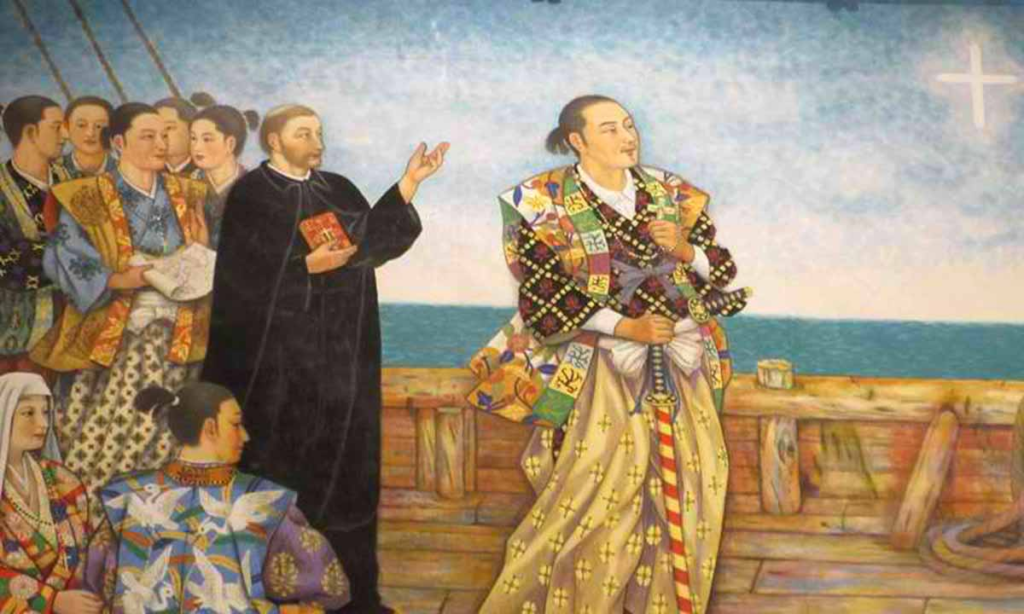 Ukon converted to Catholicism when he encountered missionaries from France who came to evangelize to the Japanese people in the 16th century. After his father and him were baptized, Ukon neglected his faith for some time, until he had a life-threatening battle injury at the age of 20 that made him re-prioritize what mattered most in this life and the life to come.
He embraced the Gospel message so profoundly, that he governed and inspired many of those under his command to pray unceasingly (particularly with the rosary) and live according to the Gospel message of loving God with your whole heart soul and mind, and to live out lives loving your neighbor as yourself.
As a fervent evangelist and example to follow, Ukon helped the Jesuit missionaries baptize thousands of Japanese during the persecutions by Toyotomi Hideyoshi, who crucified Catholic men and women, hoping to make an example of them, & called on all Catholic citizens to abandon the faith or face destruction.
Ukon, unwilling to denounce his faith, gave up his sword, his land and honor and was sent into exile with 300 other Japanese Christians to Manilla, Philippines and died a matryr in 1615. (For the samurai, it's more humiliating to die in exile rather than on the battlefield or even suicide. He sacrificed his pride and ego to unite himself to Christ in humility).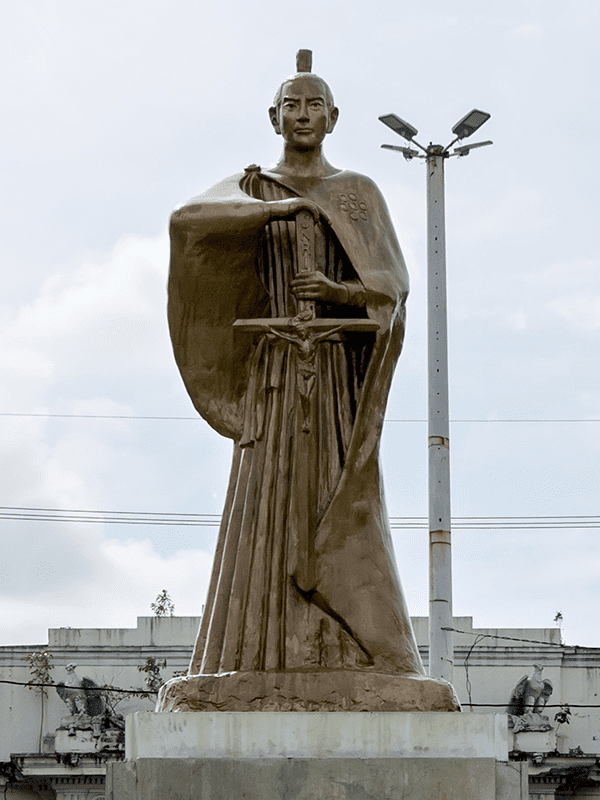 My Thoughts:
As a martial artist myself, I can relate to Dom Justo Ukon not only because we have similar interests, but also because of his devotion to his faith.
For a large part of my life, I was also very "lax" in my relationship with God. I took many things for granted, and would pray occasionally, but you could definitely call me luke-warm/cold. I went to Mass weekly, went to confession "when I felt like it" and over the years distance myself from God by dabbling in eastern religion and focusing purely on my body rather than nurture my soul.
Yet, even when I focused on sleeping well, eating right food, and taking care of myself, I would have random episodes of anxiety and depression that I could not explain.
I went to therapy for it (I explicitly avoided any Christian help because I had tremendous doubts any of that would work), read tons of books on self help and bought courses and attended seminars to "fix" myself by my own means.
It wasn't until I got a shoulder dislocation injury back on 2022 my priorities began to shift. I had never experienced an injury like this, where I couldn't train, it would hurt without doing anything constantly, and I had to deal with my anxiety in a different way.
Growing up, my parents put me into martial arts because it was an outlet recommended by a therapist to channel my energy into something productive, boost my confidence, and help me deal with anxiety and depression.
Now the one thing that got me through the day, I couldn't do. I made attempts to wrap my shoulder in a brace, take medicine, and tough it out, but it got to the point where if I kept trying the pain would get worse and I wouldn't heal.
So I had to sit with my anxiety and deal with it head on. Those regular self-help books didn't help. Yoga worked a little, then I would slip back into it. I tried Whim Hoff breathing, and meditation for months, but it eventually faded. I wanted a permanent solution. I wanted something infinite to hold on to, but I couldn't grasp what it was, until I made a prayer to this effect:
"God, if you are present, I'm not asking you to take away my anxiety. But please show me how. I'm broken and don't know what else to do."
Prior to this, I would pray to God and ask Him to simply just take away my anxiety and depression. Sometimes it helped, other times it did not, and I would brush that up to "maybe I'm just imagining things and this is all psychological".
This time it was different. My prayer changed from a demand, to confessing that I'm a sinner and that I want to be shown how to overcome this. At that point I was willing to be open, and not closed off to God as I did for so many years.
Within a few seconds after saying this prayer, I felt a motherlike presence. It's hard to explain, but the same feeling you get when you are in pain and someone rubs your back or tells you it's ok. And heard this in my heart "Pray the rosary".
I hadn't prayed the rosary on my own in years. I only did it with my family and peers not but all alone. I didn't have the patience for it but I told myself I would be open to anything and I took a leap of faith to see if it would work.
When I started praying it, it was extremely difficult.
I all of a sudden saw in my mind all the sins I had committed, all the times I led others away from God, and all the times I distanced myself from Him. I also got massive anxiety and voices telling me to stop praying it and that it's a waste of time. I could feel like I was literally fighting something off. I was in agony, and cried the entire time I said it.
But the more I prayed it, the more those negative voices calmed down, until I felt a tremendous amount of peace and tranquility. It lead me to believe that evil is real, and it was dragging me down and my sin was making me blind to the reality of it.
Soon after this event, I asked "what's next?". Within a day or so, I saw on amazon.com a suggested item. The brown scapular.
I remembered that when I was 12, my parents had enrolled into the brown scapular. It's a necklace you wear as an act of devotion to being Our Lady's son, reflecting the words and command Jesus said to John "Son, behold your mother".
I remember losing the scapular around middle school and not putting it back on, so I immediately purchased it and started wearing it again everywhere I go.
God has to transform people. I could not imagine myself being this devoted to Jesus Christ if it wasn't for His grace and love. And He used his mother, his sweet mother to take me back home.
Now whenever I get anxiety or depression (it still happens occasionally) I now realize that it's only a reminder that my happiness isn't meant to last forever on this earth, but only in the next life. I rejoice in any suffering I have because I know it's meritorious and only draws me closer to Jesus on the cross.
Why am I sharing this long-winded story with you?
Well if your reading this far into my blog post, I know I've got your attention! But it's to share with you my faith and help you consider if you're in a similar situation to turn your eyes to God and see how much Jesus wants you to come to Him.
Before I teach every class, I pray the rosary in my car, ask Dom Justo Ukon to intercede for me, and to hopefully inspire the children to lead better lives through the gift God has given me with the ability to teach martial arts.
While I don't explicitly talk about my faith in class, my hope is that the virtues of martial arts and the truth beauty and wisdom from it can lead them to eventually seeking the perfect teacher and master, Jesus Christ.
Hope you enjoyed this blog post,
God bless!
Master Taylor Kelley